Real People – Real Reviews

Dianne Dengelo
21:44 03 Aug 22
So very good to deal with. Carpet and sofa look amazing. Can highly recommend

Professional, on time, best machine and very friendly. Very satisfied customer.

Maggie Law
04:00 21 Jul 22
Does agreaf job and the service is so good

Maggie Law
03:59 21 Jul 22
Does a great job and the service is A+

Sandra Kelso
04:06 15 Jul 22
After water filter broke and soaked and saturated the carpet Che came and was amazing. Removed excess water, put in blower then steam cleaned. By the end of the week the carpet was dry and looked better than new. Went above and beyond my expectations. Will definitely recommend. Thank you.

Alloy Reyes
20:43 28 Jun 22
Highly recommended. Very satisfied with the service. Very good communication, friendly and easy to deal with 👍

Mags Marsters
23:34 29 May 22
Absolutely glad with the results! We have two dogs & two cats so we often need our carpet cleaned. Thank you for a great job. 😃

les laufiso
19:12 25 May 22
Hi Guys - really top notch work by the young man that did the job. friendly, courteous and knew his stuff. results were great and will recommend and use the team again. workmanship, time factor to complete, and price were awesome. thanks guys for the great work.

Becky Johnson
22:07 24 May 22
All I can say is wow! From the moment I booked the job through till it was complete the service and professionalism was outstanding! Kyal was awesome to deal with! Highly recommend this company and we will be using them in the future! Thanks for making the whole process seamless!Becky Johnson

Irina Telezhuk
22:04 23 May 22
Just want to thank Kyal for his fantastic job. Recently we moved in and there were countless stains of unknown nature on the carpet. Really hard case. Kyal was very professional, friendly, and patient enough answering on all our multiple questions. Now our carpet is noticeably better. We are really happy with the result. Thank you very much.

Maria Eddishaw
21:44 08 Mar 22
Kyal was a star, he went above and beyond what was required of him, he did a fantastic job the stains and discoloration was a huge improvement. Im def booking in for my carpets in 3 weeks. Shay your business rocks !!!

Nicola Rikys
01:13 03 Feb 22
Good communicationProfessional friendly serviceDid a great jobHighly recommendWill use again

Verity Vincent
10:57 01 Feb 22
This is the second time I've used Klever for their carpet cleaning services, and they delivered once again. I had tenants moving into my property and needed a quick turnaround with this job. Klever accommodated my urgent request and I was very happy with the results. Highly recommend 🙂

Conrad Beukes
00:59 31 Jan 22
Great service, my carpets have never been as clean.👍

Charlotte Pridham
07:18 25 Jan 22
Guy who I booked it with was patient and knowledgeable and they managed to fit me in quickly. On the day they let me know when they were on their way and then the whole service and follow up was great. Looks so much better now and the nasty smell is completely gone. Highly recommend.

Moria Brengauz
03:31 30 Nov 21
Shane and Kyal were fantastic! We had a nightmare flatmate whose cat ruined our carpet. It was absolutely disgusting. These guys came within a day once they heard how horrible the situation was, cut out the bad patch and cleaned the entire ground floor. Super friendly, super professional, A+++

Jaque Candida
06:33 22 Nov 21
Amazing carpet cleaning results and friendly staff! Looks like we have a new carpet all around the house! Highly recommended!

Lorraine Jenkins
06:42 20 Oct 21
Che was absolutely amazing to deal with and did such a good job of my carpet highly highly recommended thank you so much 😊

Neal Thompson
21:04 15 Oct 21
We had a room downstairs with stains on the carpet that were at least 6 months old. Klever did an awesome job at lifting them. Highly recommend for customer service also.

Triona o neill
22:23 13 Oct 21
Wow! What can I say?! If you look at the pics of the sofa before, you can see how bad the stains were! We thought that we could improve it by 50%, well it's a lot better than our expectations! The difference in the before snd after is unbelievable! The sofa is free of all the stains, they were in and out in an hour. Absolute pleasure to deal with, would highly recommend

Che did great job on our house.Really friendly and super organised! Got rid off paint stain when everyone else said it is a lost case! Thanks!

Angela Pantano
22:57 28 May 21
Amazing service. Kept me informed every step of the way. Fabulous job removing the stains on my carpet - had to come back as they weren't quite right and Che came back with a smile in his face, more than happy to ensure the job was 100% to standard.

The deep clean used on our sofa to rid the dog smell and dirt was well worth the spend. Che also came back a second time after missing a small section the first time. He cleaned our rug for free because of the mix up! Such a friendly guy and the results were beyond my expectations. They really do take care of there customers. Thank you 😊

Katie Loomb
23:24 11 Mar 21
Amazing service, and fantastic outcome! Would recommend Che at Lever cleaning to everyone!Upon arrival the carpet was reviewed and I was advised of what sort of results we could expect. The confidence was so comforting - but even better, ,he stuck to his word and the carpets exceeded my expectations!! Safe to say my bond was refunded in full! Thanks Che and the Lever Team 🙂

Takapuna Customer
19:58 09 Mar 21
Very thorough, courteous and efficient cleaning team. Besides the carpet clean they also were able to remove several stubborn coffee stains that were months old and had resisted several cleaning methods that we had tried. Highly recommend

Jodie Mitchell
20:53 17 Feb 21
Unable to fault this service. Excellent communication from initial contact. Managed to successfully remove dog stains (no details required) and another unidentifiable dark stain - leaving no trace of the mark. Shay was very pleasant to deal with and took arriving at a house in a state of flux in his stride. He also offered to drop back if the stain didn't end up lifting (but this wasn't required). Would very readily and happily engage Klever Carpet Cleanings Services in the future.

Candice Baker
00:53 02 Feb 21
Che and Klever Carpet Cleaning did a great job at getting some stubborn pet stains out of my carpet. He knows his stuff and has the equipment to do the job right. Brilliant service and communication and service with a smile.

Great job, very professional and easy to deal with, highly recommend.

Fleur Hufton
17:44 31 Jan 21
Great job, carpet & couch feel fresh again, friendly & professional.

Sally Merry
03:13 18 Dec 20
Excellent friendly service. I was thrilled with the results. I would definitely recommend Che and I will get him back again.

Che provided a very professional service - prompt, great communication and attention to detail, and at a competitive price. Wouldn't hesitate to recommend him!

Michelle Vincent
05:57 25 Nov 20
Had the carpets cleaned today - best decision I've made all year! Results are amazing. Lovely to deal with too, very professional and friendly. Highly recommend!

Sarah Barratt-Boyes
08:10 27 Oct 20
We have had our couch cleaned by Klever 3 times now and each time they have done an amazing job. We have used another company previously and they couldn't get a couple of marks out and damaged an area on the couch. When Klever came, they were able to get those stains out. We will continue to use them to maintain the cleanliness and to look after our couches.

Emily Chapman
21:59 19 Oct 20
My carpets hadn't been cleaned for 5 years and have had a lot of foot traffic through my place plus I have cats.I left them to it and came home a couple of hours later. I couldn't believe how clean my carpets were and how good my while place smelt!!Che really knew his stuff and was great at explaining why he felt certain things needed to be done.Worth every cent! Would recommend them to everyone!!!

Crystal Gmail NZ
09:38 22 Sep 20
All I say is to share and strongly recommend that you have a go with this company. Che is totally reliable, professional and do excellent job each time. Our carpet looks new and great result. Second use Che's service and will be again.Keep up the good job, Che, thank you for your hard work and great service.

Havnt used yet.might make an app.soon

Chelsea Badger
01:08 27 Aug 20
Che was incredibly professional and we are so happy with our new and clean carpets! They smell great and have given our house a massive refresh! He was on time, gave us an excellent quote and did a wonderful job. I highly recommend his services to anyone! 5/5 stars!

Chad and Catherine Mclaren
20:35 10 Aug 20
What a fantastic company!Che was incredibly responsive, calling back quickly and setting up a time to help us. The work was outstanding and our carpet and rugs look amazing and smell so good!!Klever Carpets are thoroughly professional, great value for money and brilliant customer service. We would not hesitate to recommend them to others!Thanks Che, we will definitely be calling you again to help us in the future!!

Isobel Simmons
00:02 10 Aug 20
Che was flexible with fitting us in and did a great job cleaning stains and making the carpets feel like new. Awesome job, very happy.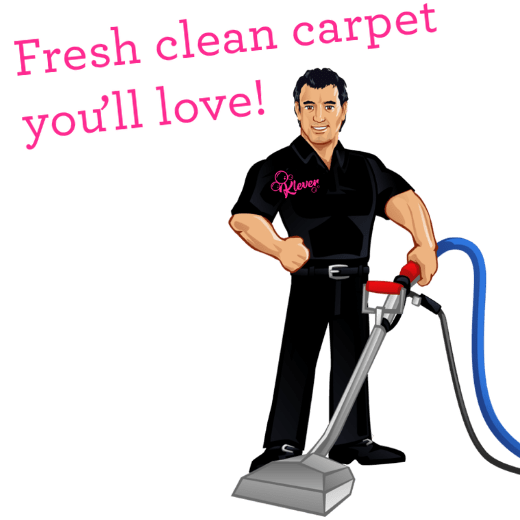 ---
Contact:
---
Klever Carpet Cleaning Head Office
44a Kurahaupo Street, Orakei 1071
Our Auckland Locations