End Of Lease Carpet Cleaning
If you're looking for a good end of tenancy carpet cleaner then KLEVER has got you covered.
We can remove all the stains your landlord will notice
We'll make sure it's cheaper for you to do it
Know you're getting best deal for service possible
Call: 0800 KLEVER
Book Online
End Of Tenancy Carpet Cleaning Service
If getting your bond back is the aim, then look no further than KLEVER end of lease carpet cleaning.  As a Tenant your main goal is to keep the landlord happy with a clean carpet while not blowing too much money on your end of lease cleaning. Am I right?
We work with both landlords and tenants to fix carpets all the time. We know what landlords will and won't deduct for when it comes to carpet wear and tear or outright carpet damage. We can  put this experience to work for you by removing the stains and deep cleaning the carpet in a way that it doesn't cost you any extra while also making sure the landlord is happy.
Had a pet? we'll get rid of the stains and smells.
kids spile red cordial on the carpet. We know how to get it out.
Carpet outside the kitchen looking a bit dodgy? we've got just the chemicals to fix it.
Cost
We help you spend enough to get the result you desire without wasting money on unnecessary treatments.
Results
Our guarantee is that if we can't get it out, it does't come out. We work until the upholstery is as good as it can be.
Value
Your KLEVER technician will always work with you to get the best result for your budget. We're committed to ethical business and never push useless products or services.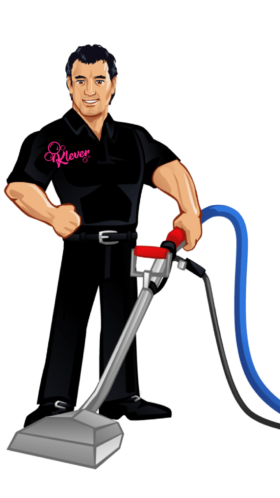 What You Get With KLEVER Carpet Cleaning 
Your carpet will get a full steam clean & sanitizing from edge to edge. We will spot treat all small marks & stains as we work each room. Our professional technicians are always friendly and service minded wearing neat and clean uniforms.
Your carpet clean includes...
A specialised dirt-encapsulating pre-wash spray of all carpet based on it's type
Separate treatment & scrubbing or high traffic and dirty areas
Wall to wall cleaning with a truck mounted, 1,000 PSI steam injection & extraction carpet cleaning machine.
What's Included
Steam Clean & Sanitize All Carpet from corner to corner
Spot Treat Small Marks & Stains as we work each room
Professional Work & Friendly Service from a uniformed tech.
How it Works
Dirt-encapsulating pre-wash spray all carpet
Separately treat & scrub high traffic dirty zones
1,000 PSI Steam injectection & extraction
What to Expect
Carpet that's as clean as humanly possible
Friendly and courteous service from a happy technician
Clean, dry & tidy after completion of work