Commercial Carpet Cleaning Auckland
Office carpet cleaning.  Our professional carpet cleaning technicians can help with office carpet cleaning and other commercial carpet types.
» Results Guaranteed
» Fully Insured To $5 Million
» We Use Non-Toxic Chemicals
» Powerful Steam Extraction
» After Hours Service Available
» Always Baby & Pet Safe
Call Us
Book Online
Commercial Carpet Cleaning For Offices, Hotels, Shops & More
Commercial carpet cleaning in Auckland requires specialized knowledge and tools. Commercial carpet found in offices, restaurants, hotels and retail stores is made from hard wearing synthetic fibers that are sensitive to the PH level of the cleaning products used. For this reason it's best to hire a company like KLEVER that has lots of experience in dealing with these types of premises.
Why KLEVER
Regular office carpet cleaning is essential for maintaining a healthy and hygienic work space for employees. It also prevents allergies and gets rid of nasty bacteria that build up in carpet as it gets used. Because of regular coffee spills and food crumbs being spilt on the carpet in an office, it can become very dirty and look old before it's time. To prevent your office carpet looking tired and dirty, you'll need to clean it at least every 12 months.
After Hours Carpet Cleaning
Our office carpet cleaning technicians understand you're running a business and work with you to get your office carpets cleaned while your staff aren't there. This sometimes means late night work or weekend appointments where you can take advantage of the weekend to get your carpets cleaned and allow time for them to dry before your employees return to work.
Look Sharp
First impressions count, you want to look professional and instill confidence in visitors to your office. So if you have customers and clients visiting, then cleaning carpet in your office isn't a choice. It's essential to remove unsightly stains and maintain a fresh professional appearance. You don't want visitors  looking at suspect brown marks on your boardroom floor as it will not make the impression you're looking for.
Book Today
We'll take care of everything. All you need to do is call the friendly and respectful team at KLEVER to arrange a time for a quote.  Our commercial carpet specialist will visit at a time that suits you and provide a full measure and quote for the job. He will also take into account the carpet type, it's condition and the expected foot traffic.  Based on this information we can provide a detailed estimate and also answer any questions and concerns you have face to face.
Extras For Commercial Carpet Cleaning
Because commercial carpet is heavily used and treated roughly compared to the carpet in your home we recommend upgrading your carpet cleaning service with carpet protection. Carpet protection uses solvent based chemicals to create a barrier between your carpet and the nasty stuff that gets spilled on it.  It will keep your carpet looking newer for longer and ensure that stains can be removed more easily. The small additional cost pays for itself over time by significantly extending the life of your carpet.
Specialized Carpet Cleaning Services For…
Office Carpet Cleaning

Hotel Carpet Cleaning

Shops & Retail Carpet Cleaning

Carpet Cleaning for Doctors Offices & Waiting Rooms

Commercial Upholstery Cleaning

Restaurant Carpet Cleaning
Cost
We make sure that you get the stain out without wasting money on unnecessary treatments.
Results
Our guarantee is that if we can't get it out, it does't come out. We work until the stain is as gone as it can be.
Value
Your KLEVER technician is a pro. They work with you to get the best result possible. We're committed to ethical business and never push useless products or services.
What You Get With Commercial Carpet Cleaning
First up, your office carpet will get spot treated with the appropriate chemicals.  We then extract with steam, sanitizing the area. We will repeat the spot treatment until all marks & stains are removed. Our professional technicians are always friendly and service minded wearing neat and clean uniforms.
We respect you and your home and take care to leave no mess or damage. We're here to help.
Our carpet cleaning process includes…
A specialised dirt-encapsulating pre-wash spray of all carpet based on it's type
Separate treatment & scrubbing or high traffic and dirty areas
Wall to wall cleaning with a truck mounted, 1,000 PSI steam injection & extraction carpet cleaning machine.
What's Included
Steam Clean & Sanitize All Carpet from corner to corner
Spot Treat Small Marks & Stains as we work each room
Professional Work & Friendly Service from a uniformed tech.
How it Works
Dirt-encapsulating pre-wash spray all carpet
Separately treat & scrub high traffic dirty zones
1,000 PSI Steam injectection & extraction
What to Expect
Carpet that's as clean as humanly possible
Friendly and courteous service from a happy technician
Clean, dry & tidy after completion of work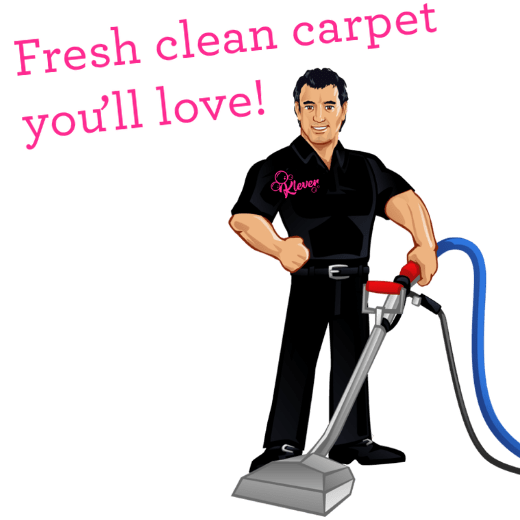 ---
Contact:
---
Klever Carpet Cleaning Head Office
44a Kurahaupo Street, Orakei 1071
Our Auckland Locations